Tooth whitening is now very popular and can make a dramatic improvement to your smile. It does no damage to your teeth and can be repeated as much as you wish.
It involves the use of a gel which releases hydrogen peroxide which percolates into the tooth and bleaches out the staining. It will not work on crowns except on surface staining. The only downside sometimes is a bit of sensitivity which is temporary and soon goes.
With DentalHouse home whitening you have impressions taken for models on which are constructed the "trays" which are like thin gum shields. You place the gel in them and wear the trays for at least six hours per day – most usually at night for about 10-14 days. With any sensitivity you just leave off for a night or two. You of course have to avoid black coffee, red wine etc. during that period. We recommend a thorough scaling and polishing with our hygienists beforehand.
All our clients so far have been delighted with the results.
If you want to know more about tooth whitening and how it can transform your smile, call us on 01733 244 711 or fill in the form below.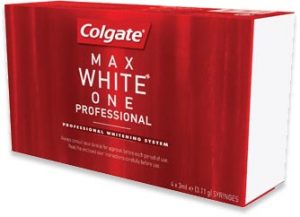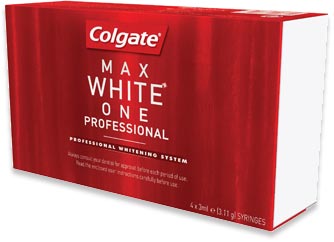 We use the latest
Colgate MaxWhite One Professional
take home, tray based teeth whitening